The philosopher Janet Jackson taught the world many things, but foremost amongst her lessons was this gem:
Don't it always seem to go
That you don't know what you've got 'till it's gone
With that in mind, we arrive at our sixth lesson: getting out of London for a bit.
It's been hard for me to stand back and admire London, a bit like a new portrait on your living room wall. This is partly due to being 'in' London constantly – imagine standing directly in front of your new Van Gogh and staring at the paintwork. Sometimes you have to step back a bit and look at, well, the bigger picture.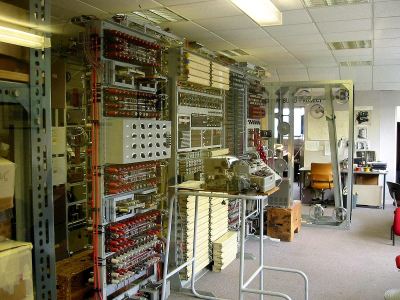 Slightly forced analogies aside, what I'm getting at is that it's good to get away for a while to contextualise everything. I was invited to a wedding back in Leeds over the weekend, although before that, I was busy attending Bletchley Park – the site of the World War 2 Enigma machine codebreakers – on a work day out. This involved boarding a northbound train and passing through the exotically-named environs of Hemel Hempstead and Leighton Buzzard. It was almost disconcerting seeing London's tower blocks and stonework replace itself with fields and grassy plains, barely twenty minutes out of the centre.
The park/museum itself was fantastic for computer nerds, but I digress. The rest of the weekend was spent back in Leeds. It felt a little odd disembarking from the coach into the city I'd moved out of less than a month before, but it hadn't changed much and it felt quite 'safe' to be back. We knew everywhere and getting around was faster and simpler. That said, it also felt a bit 'junior' – like a kind of "my first city" children's toy. While it was quite a breath of fresh air to walk down streets that weren't teeming with people (particularly the slow-walking variety), it also felt frustratingly quiet and inactive by comparison.
Still, all this brings me back to my earlier point: arriving back in London at the end of the weekend felt completely right. Crawling alongside Hyde Park and Marble Arch in a National Express coach saw me pressing my nose to the window with the kind of eagerness that London filled me with upon visiting it before moving there. A few days away was all it took for it to fill me with curiosity and excitement all over again.
Today's lesson? Get away from it all for a bit; get a feel for the world outside of the 24 hour city again. But then come back to London and be thankful that all the shops here don't close at 4pm on a Sunday.